A pair of used red shoes helped me appreciate my dad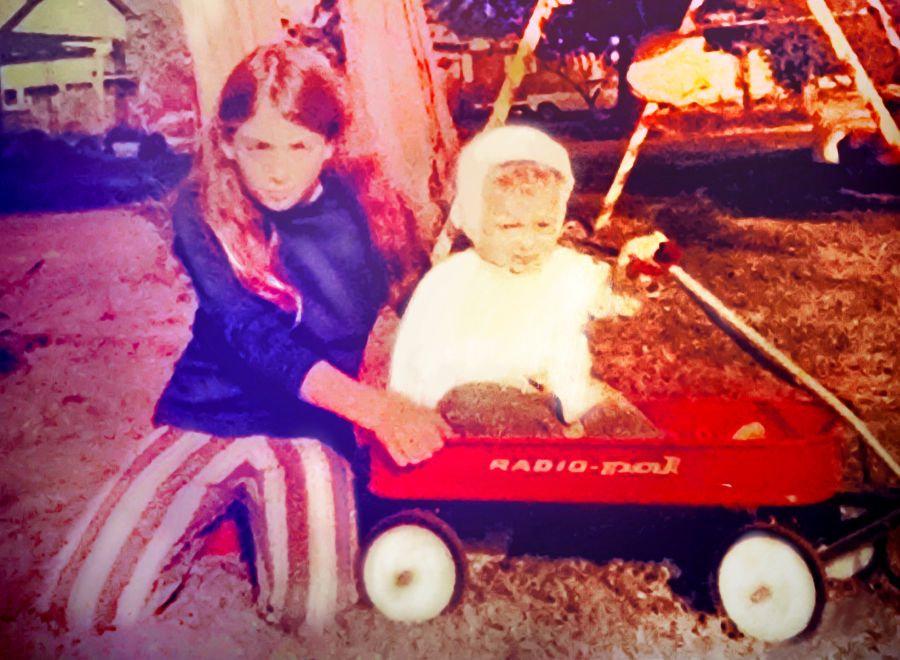 I remember how my mother cried that night. I hated when she cried. Anything could happen in the world, and if my mom was okay, I was okay. But when she cried, my stomach was sick and my heart was beating fast. My newborn brother lay on my mother's lap in the front seat of our blue 1965 Volkswagen while my father drove us through the darkness. I sat quietly in the backseat, wishing it was just another normal night spent having dinner and watching TV. But above all, I wanted my mother not to cry.
I was 10 years old and the fall semester was about to begin. And there was the problem. My parents had no money to buy me clothes and shoes. My friends had gone shopping with their parents and asked to see my new school clothes. I dodged the request, saying I couldn't go shopping until my dad got the car fixed. It was not too a lot of a lie. I knew I could always count on our Volkswagen to need repairs, and my friends seemed none the wiser. I thought I had bought some time to see what my parents could do about my clothing dilemma.
"Please don't cry anymore," I heard my father say to my mother. "It's the best we can do this year," he continued. "She will look good in these clothes. These are good clothes, and we're going to have first choice on what was brought. She can go through all the boxes and choose what she wants. My mother turned her face to the car window and stared out into the dark night. I wanted to vomit. I wanted to shout "Stop the car!" then get out and run until I find a tree to climb. A 10-year-old in a tree didn't need school clothes, shoes, notebooks, or pencils.
We stopped in front of a small building. My father got out of the car and motioned for us to follow him. As we were walking down a hall, someone in an office spoke to my father and told him to let them know if we needed any help. Apparently my father had coordinated our night excursion in advance. I felt a small surge of comfort.
My father flipped a switch on the wall of a large room at the end of the hall, and bright lights illuminated boxes and boxes of clothes and shoes. We found a bunch of boxes marked for kids and my dad started pulling things out. I stood by her side, taking each room to look at as well. I didn't know what I was looking for; I imitated my father because I was afraid.
---
Interested in more stories like this? To subscribe to Wide view's weekly newsletter.
---
I realized that my mother was not behind us. I looked through a few boxes until I found her sitting on a small bench beside the room, holding my sleeping brother. She had stopped crying. And the absence of her tears boosted my motivation. I returned to my father and threw myself into our task. Somewhere in those boxes were my back-to-school clothes and shoes, and I was going to find them!
Before long, we hit paydirt—several pairs of corduroy pants in my waist. My dad brandished a pair. They looked exactly like the pants I had seen in one of the stores in the mall the last time we went to see a movie. My dad smiled when he saw me smile. "Let's look at each color, Dad," I said looking into the box. I felt like a miner who had just found a long-awaited rich vein of gold. We picked out seven perfectly gorgeous pairs of corduroy pants in my favorite colors.
Another box contained girls' sweaters and long-sleeved shirts. Soon my dad and I had selected enough sweaters to get me through the winter months and enough shirts to use before the cold weather set in. I was delirious with pleasure. Having never shopped in boxes in the back room of an office building at night, I was proud enough of myself for catching on so quickly. And there was such a bounty to be had! "I wonder what box the kids' shoes are in, Dad?" " I asked.
---
Learn more about Broadview:
---
And then we encountered a little setback. I was average height for my age, but my feet were small. And all the shoes in the box were too big. My father looked dejected and shook his head. "Well, we tried," he said with a heavy sigh. I looked at her face, swallowed the lump in my throat, and blinked my eyes out of tears. "Wait, Dad! See!" I said, slipping on a pair of bright red patent leather flats with a shiny silver buckle. "I just put them back on, and they do adapt! I just hadn't pulled the loop right. Dad, these reds are just perfect! I said smiling at him. My father looked happy and relieved. He put his arms around me, gave me a big hug and patted my back. "So, I think we can call it a successful trip!" he said. I nodded, closed my eyes and leaned against my father's strong chest.
On school mornings that year, I spent a little more time in the bathroom before going out for breakfast. You see, the shoes didn't really fit. In order to keep them on my feet, I had to put toilet paper in my toes every morning. I never told my father about it. I didn't want him to know that I had lied, but more importantly, I didn't want him to be disappointed that he hadn't bought me shoes. Running and playing at recess often meant stuffing shoes in a bathroom stall before returning to class. But it suited me. I had shoes; I had clothes; but above all, I had parents who loved me. Parents who went above and beyond to make sure I had what I needed.
When, over the years, as a wife and mother, I found myself unable to provide for my own family, I understood and shared my mother's tears of that night. Sometimes when I thought I wasn't strong enough to take on a challenge, I would look back and remember my parents' strength and resilience. They always found a way to make things work, no matter how difficult the situation. And, when I felt small and insignificant in a big world, I found great encouragement about who I am as a person by remembering at age 10 to wear those shoes stuffed with toilet paper to school. each day. The little girl who held her head high, worked hard in class to get great grades and ran around the playground as fast as the other kids, the kids wearing shoes that really fit them. Meeting life's challenges is something I learned early and learned well. The truth is, you do what you have to do, then you do your best to do even better. And you keep trying. Again and again.
---
We hope you found this wide view engaging article.
Our team works hard to bring you more independent, award-winning journalism. But wide view is a non-profit organization and times are tough for magazines. Thank you for considering supporting our work. There are several ways to do this:
Subscribe to our magazine and you'll get smart, timely stories and insights delivered to your doorstep 8 times a year.
Make a donation to our Friends Fund.
Give the gift of wide view to someone special in your life and make a difference!
Thank you for being such wonderful readers.
Jocelyn Bell
Editor/Editor