Almanac | Almanac | paysonroundup.com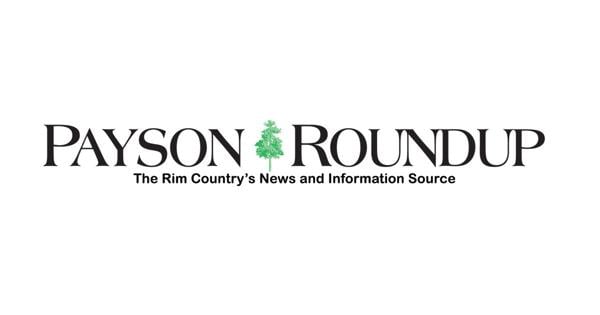 Payson Community Kids Yard Sale
An assortment of furniture, including cabinets and sectionals; Appliances; household items; artwork; home decoration; and more are available from 7:30 a.m. to 3:30 p.m. today, Friday, March 25, during a yard sale to benefit Payson Community Kids. The sale is made at the PCK center yard, 213 S. Colcord.
There will also be refreshments – donuts, pizzas and hot dogs – for donations.
The goal is to raise funds to have the playground equipment installed at the PCK facility.
Tombola for the benefit of Kaydia
A few weeks ago an article appeared in the Payson Overview about a local family who needs help with their expenses as they have to travel regularly to Ohio for treatment of a rare disease suffered by their 11-year-old daughter, Kaydia.
To help raise funds, a raffle for a 1954 Winchester Model 12 12 Gauge Pump Shotgun is underway. Tickets are $20 each and are available at Miller Autoworks, 600 W. Main St. The business is open 7 a.m. to 5 p.m., Monday through Friday. Only 100 tickets will be sold, with the draw taking place once all tickets have been sold.
Visit to the Pioneer Cemetery
Author and historian David Grassé leads a two-hour tour of Payson Pioneer Cemetery from 10 a.m. to noon, Saturday, March 26. Tickets are $20 each and are available at the Payson Public Library, 328 N. McLane Road. All proceeds from ticket sales go to the Friends of the Payson Library. All sales are final.
It is recommended that participants wear a sun hat, comfortable walking shoes and bring water.
Archaeological Society
The Rim Country Chapter of the Arizona Archaeological Society is planning several outings in March and April.
• On March 26, in lieu of the monthly Zoom meeting, the AAS San Tan Chapter is hosting an "Arizona Archeology Mini-Expo Invitational" from 10 a.m. to 2 p.m. on the grounds of the Museum of the San Tan Historical Society at Queen Creek. It will include activities and demonstrations of skills used in historic and prehistoric Arizona. This is a public event of Arizona Archeology Month. For more information, visit azarchsoc.org/santan.
Field trips in April are planned to the Upper Tonto Ruin National Monument and two closed sites near the gates at Pine and Chaparral Pines in Payson.
To become a member of Rim Country Archaeology, to register and participate in field trips, please contact Dennis Dubose at [email protected]
Library Events
The Payson Public Library, 328 N. McLane Road, invites young area scientists to participate in its weekly Saturday Science Club. The club meets at 10:30 a.m. every Saturday at the library. The last event of March: Star Projector, on March 26.
The Pine Public Library, 6124 W. Randall Place, invites teens and adults to a craft event at 1 p.m. Friday, April 1 to create Yarn Birds in the library's activity room, a $2 donation $ is requested. Register at the library or email [email protected]
An event for kids ages 4-12 will take place at 10:30 a.m., Saturday, April 2—Rainbow Science, featuring experiments, books, fun, and more. Call 928-476-3678 for details.
Reunion Pine Strawberry Fuel Reduction
Volunteers are needed for a variety of upcoming Pine Strawberry fuel reduction events. PSFR's mission is to reduce the risk of catastrophic fire in and around the Rim Country communities of Pine and Strawberry. Its vision is to stimulate public understanding, acceptance and ability to reduce fuel sources.
To learn more about how you can help protect our communities from wildfires while having fun and meeting new people, come to the Volunteer Information Meeting at Pine Cultural Hall at 11 a.m., Saturday. March 26. If you cannot attend, the meeting will be streamed live on Facebook at https://www.facebook.com/psfuelreduction. For more information, email [email protected] or call 602-842-1955.
Kiwanis Youth Auction
The Zane Gray Country Charitable Foundation Kiwanis Club invites residents and visitors to Rim Country to join members for a disco dinner, auction and dance for the annual youth band auction.
The big event will take place on Saturday March 26 at the Mazatzal Hotel & Casino. Doors open at 5:30 p.m. Individual tickets are $65 per person or $450 for a table of eight. Tickets are available through the Rim Country Regional Chamber of Commerce, 100 W. Main St., Kiwanis Members or by calling 928-978-1086. Proceeds go to Payson Youth activities and scholarships sponsored by the Zane Gray Country Charitable Foundation Kiwanis Club. Learn more about https://www.zanegreykiwanis.com.
Free jazz concert
The John Darst Band plays an expanded genre of '30s to '70s tunes, all jazz and blues, with some oldies pop at 2 p.m., Sunday, March 27 at the Payson Community Presbyterian Church, 800 W. Main St The band includes four members – Darst, Bob Veltre, Chris Long and Gerry Reynolds.
Please respond with an RSVP so plans can be made to accommodate everyone. However, an RSVP is not required to attend. Contact [email protected] to RSVP.
Monday Al-Anon Meeting
Al-Anon offers support to family and friends of people who have alcohol problems. Masks are now optional at Monday meetings, which are held from 6 p.m. to 7 p.m. at St. Paul's Episcopal Church, 401 E. Tyler Parkway.
Senior singles with spirit
The Senior Singles with Spirit group is made up of men and women who are young at heart and eager to live. The group meets at 9:30 a.m. every Tuesday at Tiny's Family Restaurant, 600 E. Highway 260. For more information, call Linda at 602-499-3351.
The Rim Country Republican Club welcomes the contestant
The Rim Country Republican Club meets Tuesday, March 29 at the Payson Golf Club Restaurant, 1504 W. Country Club Drive. At 11 a.m., gather and order lunch if you wish. The speaker, Eli Crane, candidate for Congressional District 2, begins his program at noon. All members and non-members are invited to attend.
For details, call Nancy Cox at 928-970-1365 or Carol McCauley at 928-474-3064.
Payson Tea
The Payson Tea Party meets 6-7:45 p.m., Tuesday, March 29 at Ponderosa Bible Church, 1800 N. Beeline Highway. The speaker is Eli Crane, candidate for Congressional District 2. Crane is a retired military man and businessman.
Distribution of clothing
Kaitie's Closet will be holding its Children's March Clothing Giveaway from 4-5 p.m., Wednesday, March 30 at St. Paul's Episcopal Church, 401 E. Tyler Parkway. In addition to lightly worn clothing, including jackets and coats, new shoes, new socks and new underwear will be available. Children must be present to get new shoes. For more information, call Bob at 928-951-2217.
College Day at EAC-Payson
Eastern Arizona College's Varsity Day runs from 9 a.m. to noon, Thursday, March 31 at the EAC Payson campus, 201 N. Mud Springs Road. The event is intended to help graduate students make decisions about the rest of their high school education and the choices available through the community college.
Bach-N-All Benefit Concert
Bach-N-All, a piano/flute duo, performs at 3 p.m., Sunday, April 3, at Payson Community Presbyterian Church, 800 W. Main St.
Lisa Tan, piano, and Bette Acker, flute, are eager to share their music with others. A portion of all donations received will benefit the duo's chosen charity, the Time Out Shelter. The concert is free, but donations are requested to support the association.
The duo will perform selections of classical, Latin and classical jazz. Bach-N-All suggests, but does not require, cocktail attire for the event and post-concert reception.
The event is free and open to the public, but reservations are required due to limited seating and to schedule the reception. Contact Bette by email at [email protected] or by phone at 602-625-1696 to make a reservation before April 1st.
Scholarship Deadline
The application deadline for the Margaret Sutherland Gall Scholarships is fast approaching. Two scholarships will be awarded by the Historical Society of North Gila County to high school graduates from the Payson area who wish to further their education and/or career. Applications must be computer printed and submitted by US mail and include a current school transcript.
Apply using the fillable form on the Historical Society website: www.rimcountrymuseum.org. Go to the Scholarships tab, complete the online application, then print and mail it with your accompanying documents as instructed. Nominations must be received no later than April 1, 2022 to be considered.
For more information, contact the Rim Country Museum at 928-474-3483.
County Meeting on Right of Way Ordinance Updates
Gila County is seeking feedback from residents, community groups and advisory boards on proposed revisions to its Right-of-Way Ordinance No. 02-01, which was last updated in 2002.
Public meetings are being held from 1 to 3 p.m., Thursday, April 7 at the Gila County Office Building at 610 E. Highway 260, Payson. County staff will outline the proposed changes, with time for citizens to comment in person. Comments may also be submitted by email to [email protected] April 15 is the deadline for comments submitted by email.
Free tax preparation
The Payson Foundation AARP Tax Assistance Program is providing free electronic federal and state tax return preparation and filing through Wednesday, April 6 by appointment only. The appointment line is 928-487-1174, just leave a message.
Forms that need to be completed prior to the appointment can be picked up at Payson Elks Lodge, 1206 N. Beeline Highway, between 1 and 4 p.m. Tuesday and Wednesday.
Masks are mandatory. All ages are welcome. You do not need to be an AARP member.