Community exchange of clothes, toys and equipment for babies, children and maternity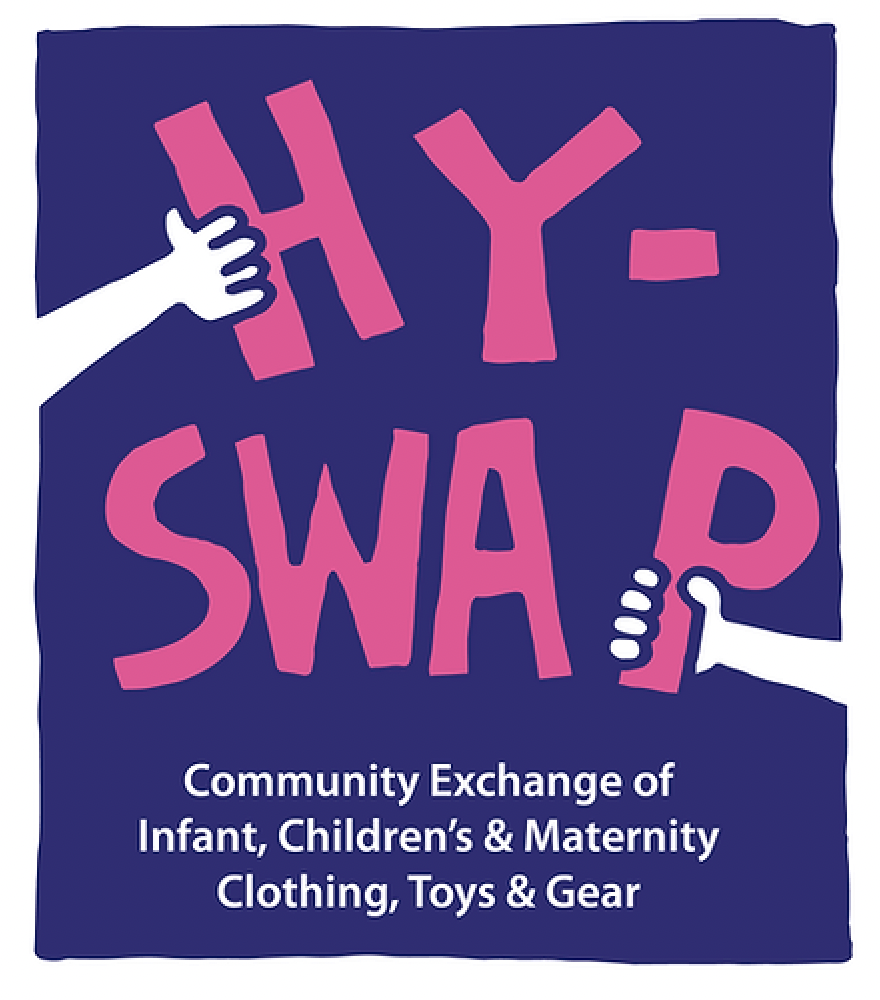 The HY-Swap will be back on Sunday May 1, 2022!
Spring 2022 HY-Swap schedule:

9h00-11h00
Deposit of donations

12:00 p.m.-1:30 p.m.
Buy the exchange

1:30-2:00 p.m.
HY-Swap closes to restock
2:00 p.m.-3:30 p.m.
Buy the exchange
3:30 p.m.
HY-Swap closes
This is a free event, cash donations are welcome and help defray costs.
How is this HY-Swap different from previous swaps?
For May 2022, there will be no donation sites and sorting parties. People will be required to drop off their lightly used items pre-sorted into sizes and categories on the morning of the trade-in only. You can then register to buy the swap later in the day after all donations have been organized and set up by our volunteers.
*Can I donate bulky items like cribs, high chairs, car seats, etc. ?*
Not for this HY-Swap. We ask people to donate only small items. Each item must fit in a reusable shopping bag or brown paper bag. NO LARGE ITEMS WILL BE ACCEPTED. You can donate lots of bags and small boxes of items, but no larger items, please.
Can I donate items?
Yes, however we will only be accepting donations on Sunday May 1st from 9h00-11h00 to David C. Driskell Community Park.
Where am I going?
To drop off items or purchase the Swap, stop by the large pavilion at David C. Driskell Community Park. The pavilion is located at the back of the park behind the softball field.
What safety precautions are being taken since COVID is still here?
Safety being a priority, we ask you Register for one of the shopping hours in advance to limit crowding. This event affects many families with children too young to be vaccinated, so please wear your masks and respect social distancing. Additional masks will be available at the event for those who need them.
Do I have to GIVE to TAKE?
Nope! The spirit of HY-Swap is to support the community and give it back – take what you need now, and if you have items to give away in future swaps, great! Donations come from the local community, for the local community.
It's free?
Yesthe exchange is free, but we accept cash donations to help cover our costs.
Can I drive and drop off donations?
Yes! You can walk or drive to drop off donations from 9-11 a.m. Sunday, May 1 at the Driskell Park Pavilion behind the softball field.

Is this HY-Swap out?
Yes. We use the outdoor space of the park. Items will be spread out on tables, in kiddie pools and on tarps.