Inside the toy line launch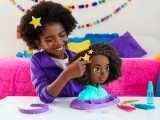 As the Karma's World team builds hype for the toy range at Brand Licensing Europe this week, with a "Beat Bus" tour, Children's screen magazine takes an in-depth look at how it came to be, from its first pandemic-friendly pitch sessions to retail launch this summer.
By Maryam Siddiqi
Launching a line of toys has always been part of the plan of the team behind Karma's World9 Story Media Group's hit animated series about an energetic 10-year-old girl who uses her love of hip hop to find her voice and travel the world.
But with Karma's big personality and the show's socially conscious themes, the company knew a one-size-fits-all approach to CP wasn't going to work, nor should it.
"We really felt that we had the opportunity to show the market something that had never been done before: to create a line that focuses on authentic representation and offers children products that they can interact with and that represent", declares Kyra Halperin, co-head of consumer products at 9 Story.
The original series, created by rapper/actor/producer Chris "Ludacris" Bridges and inspired by his eldest daughter, launched on Netflix in October 2021. But the toy line was in the works long before the premiere.
With Licensing Expo canceled at the end of 2020, the 9 Story team created their own virtual pitch event for potential licensing partners, sending invitations and giveaways to toy companies showing the direction the company wanted to take. for the brand.
"We sent boxes containing products from black-owned businesses, brand name snacks and candies," says Halperin. "Chris Bridges came in and talked about his passion and why he created the show, our production team went through the details of the show, and then we walked attendees through our consumer product plan."
A number of major toy companies were in attendance, but it was Mattel's pitch that blew 9 Story away, Halperin says. The feeling was mutual.
"Our team immediately fell in love with the property," says Katie Buford, vice president of global doll marketing at Mattel. "Karma's World is unique among other doll properties. We love Karma Grant. She's an ambitious, relatable black girl, and we love how the property brings hip hop culture to kids; this idea of ​​music and dance as an outlet for self-expression.
Mattel's pitch included a comprehensive view of the product line, Buford adds. "At the time, we had what we call a 3D, an early sample of what a doll could look like. And then a lot of ideation around product concepts and across range lines," she says. Mattel's pitch also touched on game systems and key elements that would weave the line together.
There are nine releases in the initial collection, split across two global launch dates: July 17 (to coincide with the show's third season, which debuted on Netflix on July 7) and October 22, featuring toys available at major retailers like Amazon, Walmart and Target. . The product line ranges from a musical journal with a hidden record player and marker for kids to write lyrics, to a doll set of Karma and her friends Switch, Winston and the pup Major.
A doll immediately resonated with the 9 Story: Singing Star Karma team. "The music is the central element of the series. The fact that she was a music maker, it was so natural," says Christine Lecourco-head of consumer products for 9 Story.
Development of the line was a collaborative effort and focused on supporting the purpose of the series.
" Sometimes, [9 Story] shared episode previews during the animation process, giving our designers insight so we can get as close as possible," says Buford. "Then our design team took that inspiration, created toy designs, and 9 Story provided feedback on them as those toys came to life."
Key to 9 Story was making sure the products represented the series' mainstays – music, dance, and creative self-expression – which are often reflected in Karma's fashion.
The Mattel line includes collectible records and a karaoke-inspired microphone that lets kids rap along with Karma or create their own lyrics to beats. The dolls' limbs are movable so kids can recreate dance moves, and each doll has a unique fun and colorful outfit, allowing fans to build a closet full of Karma clothes.
Mattel and 9 Story were keen to portray Karma in an age-appropriate way, particularly because the typical age of children playing with these dolls can be as young as five years old.
9 Story was already working on developing the series with the Perception Institute (PI), a consultancy that helps companies make decisions that reduce race, gender, and other types of identity discrimination. And it was an easy decision to extend the institute's advice for the toy line.
"One of the things [PI] mentioned was that black girls – and black dolls – can sometimes be over-sexualized in terms of the types of clothes they wear," says Lecour. "So that's the one we've been very careful about, making sure Karma's belly doesn't show – all the characters, quite frankly – and making sure the shorts pass the 'sitting test', like, how short are they?"
The clothing line was designed through a partnership with the Fashion Institute of Technology in New York. "We worked with a group of up-and-coming student designers to create a collection that reflects what Karma's closet might look like if you could walk inside," says Halperin. "Mattel then took that and turned it into clothes for the doll."
Aya Tavares, PI's Director of Story and Representation, explains that the institute's work with the toy line included how the characters
were presented, focusing not on potential "cancellation" but on the possibilities of authentic representation. "We have been called to inflection points where decisions [were being made] on how to present really essential pieces… which I think are the most
inextricably linked to potential trap moments," she says.
One of those essential pieces is Karma's hair, whether in a coloring book picture – "Should this be an open space that kids could color in themselves?" Or does it create potential harm in what could be understood as an appropriation of choices made by people who do not share an affinity with Karma?"
"Achieving the authenticity of Karma's natural hair was extremely critical for us," says Buford. "The process of making sure we had the correct set of raised hair in the dolls was a major focus throughout the development process. Our team used the highest end doll hair fiber and we assured that the fiber was properly rooted.
For this particular aspect, Mattel consulted 9 Story and Perception Institute, as well as internal resources.
"We tapped into our employee resource group here at Mattel called Black at Mattel. We leveraged focus groups with children, over-indexing with girls who identify as black. And then, of course, our Consumer Insights team is always on top of consumer trends and perceptions," Buford says.
The result is a line of toys beloved by contributors and fans alike. Person from Halcyon, Karma's World head writer and co-executive producer, attended the Essence Culture Festival in early July, where the team previewed some of the toys and fans got to interact with the Styling Head.
"We had grown women spending an hour doing their hair, which I thought was the most amazing thing," she says. "Everyone who touches his head is impressed with the quality of the hair, from the thickness to the fibers. It's unlike anything you've ever felt on a toy before.
One of the things Mattel liked Karma's World, says Buford, was the focus of the show. "It's so important to today's customer," she says. For production companies considering rolling out toys, she adds that bringing a unique perspective to market is key.
"If there's a small business or a founder who is really passionate about a certain topic, make sure that comes through in the pitch of the content."
And 9 Story's Lecour urges content creators to remember that they know the content best. "We were lucky with Mattel that we didn't have to push [back against] trying to get us to do things that make it easier to sell," she says. "But that would be my advice: stay true to what the brand is and what makes it special and unique, instead of just doing what is perhaps more profitable.
"As a content company, you know what's special about the show, what makes it unique, and what the key DNA is."