The Squid Game clothing line reproduces the show's iconic jumpsuits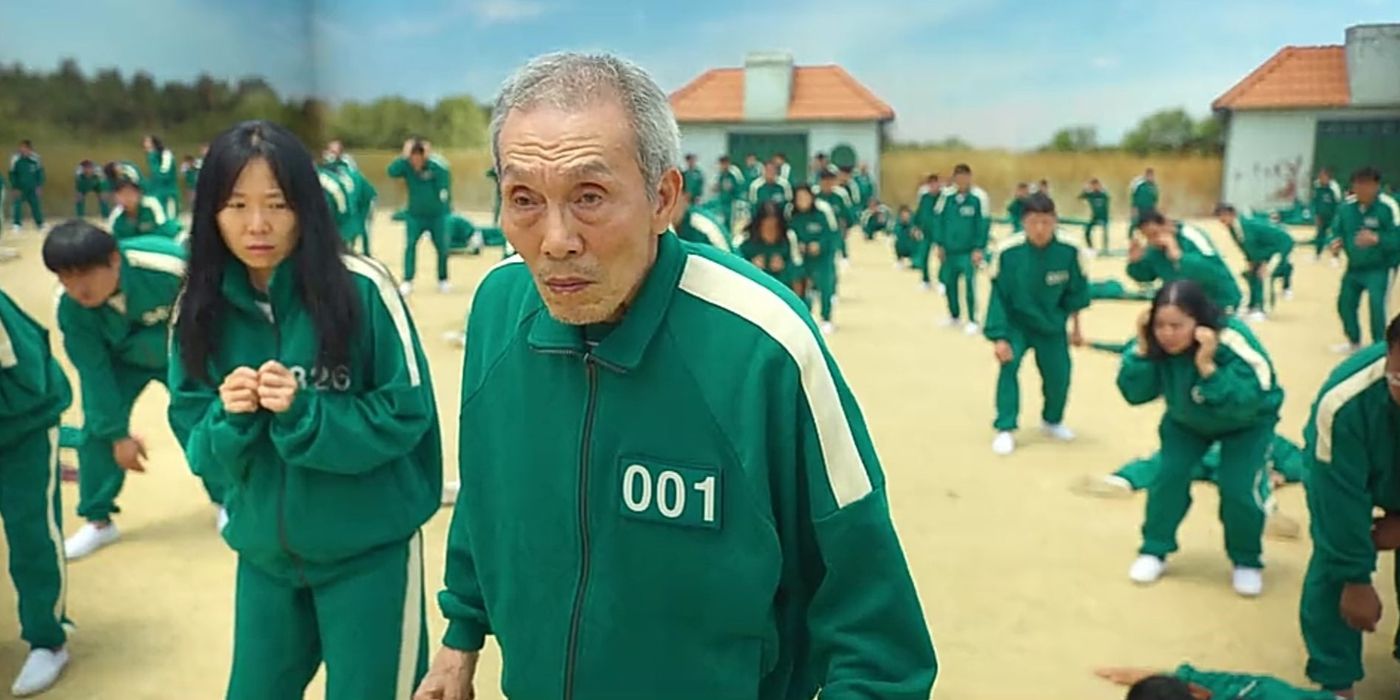 The officially licensed clothing from the Korean Netflix TV show Squid Game is now available for purchase, including the show's iconic jumpsuits.
You can now buy your own iconic Squid game jumpsuit with an officially licensed clothing line available for purchase worldwide.
Australian alternative clothing company Black Milk Clothing has partnered with Netflix to offer a wide range of items inspired by the popular Korean TV show, Squid game. The collection covers everything from skater dresses to leggings, but the highlight for all fans of the series and cosplayers is without a doubt the iconic jumpsuits worn by many of the characters in the series.
RELATED: Squid Game Theory: Player 001 Was Never Intended To Play Marbles
Variations of the jumpsuit jackets sold by Black Milk Clothing display the numbers of the four main characters for an additional mark of authenticity. Buyers can choose to represent players 001, 067, 218, or 456, and those represent Oh Il-nam, Kang Sae-byeok, Cho Sang-woo, and Seong Gi-hun respectively. There is also a three-quarter-length t-shirt available which can be personalized with any three-digit number of your choice.
In Squid game, 456 indebted players compete in a number of kids games to win a big cash prize. Failure to complete any of the games results in death. Each player is assigned a unique number from 001 to 456 and these are the numbers displayed both on their wetsuits and those offered by Black Milk Clothing.
Squid game was a record success on Netflix. According to Netflix's own figures, Squid game reached 1.65 billion viewing hours in its first 28 days on the streaming service and was watched by 142 million households worldwide. This makes it the most successful show on Netflix to date, eclipsing the benchmark set by Bridgerton of 625 million hours watched.
RELATED: Social Media Believes Squid Game's North Korean Death Penalty Report Fake
Reports initially said series director Hwang Dong-hyuk confirmed that a second season was in the works, but this was later clarified as a poor translation of comments he made in his native Korean. Instead of confirming that a second series had been ordered by Netflix, he said, "I think there will be a season 2." This was corroborated by a Netflix spokesperson who said a second season was "under discussion but not yet confirmed."
Building on the success of its first season and the cultural impact of Squid game, it's no surprise that discussions are ongoing regarding a possible second season. With this clothing line release from Black Milk Clothing, fans of the series can wait for the announcement while wearing their own officially licensed clothing. Squid game t-shirts and jumpsuits.
The first season of Squid game stars Lee Jung-jae, Park Hae-soo and Oh Yeong-su and is currently streaming on Netflix.
KEEP READING: Squid Game: Reagan Reveals How She Created the Menacing Voice of the Play Doll
Source: Dark Milk Clothing
Spider-Man: Into the Spider-Verse sequel title hints at third movie
About the Author