Three students create a clothing brand to promote sustainability and positivity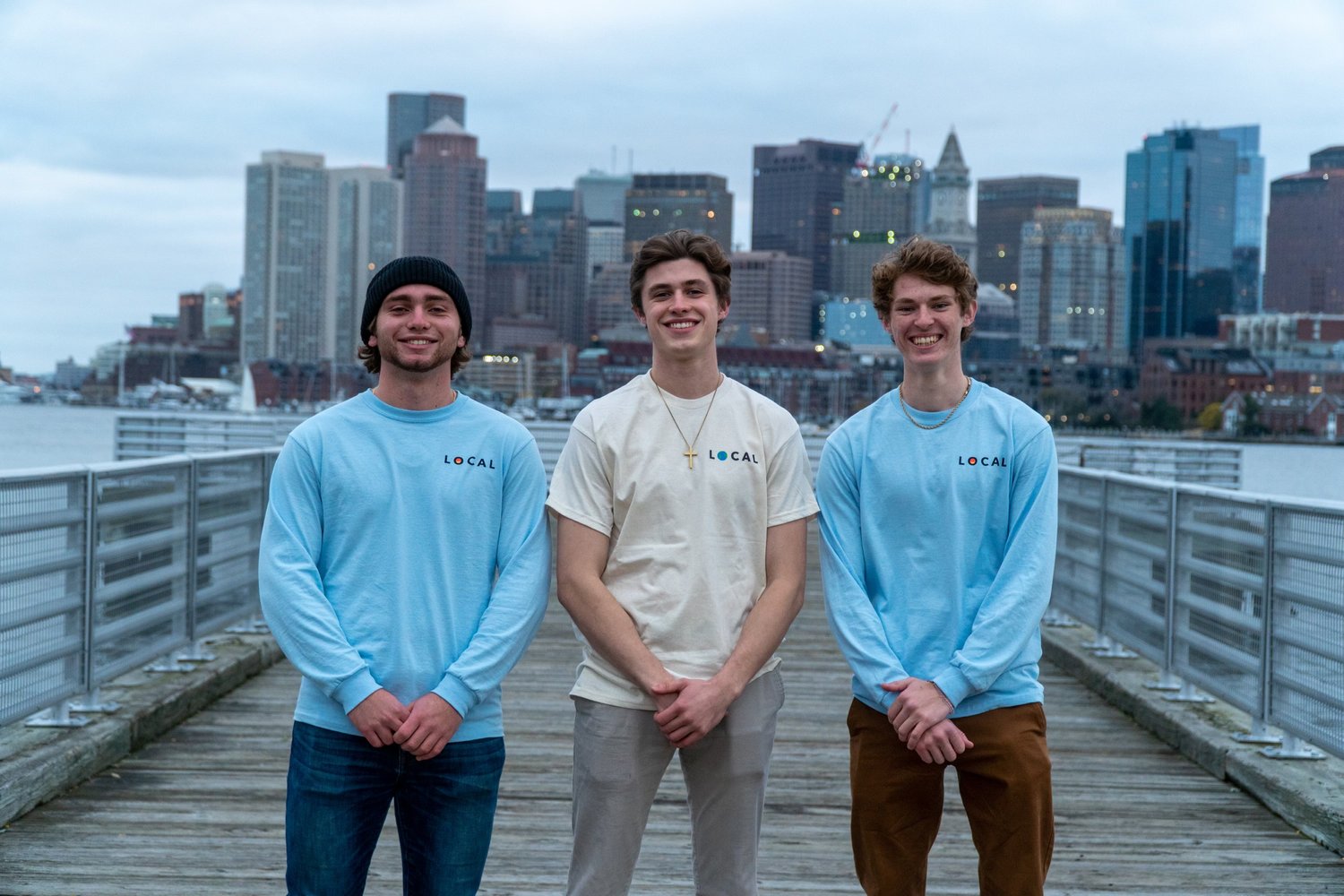 In an effort to spread positivity and defend the Earth, three Massachusetts sophomores have started a clothing brand.
The local brand is a clothing brand founded by longtime friends Matt Doherty, Carter Nevulis and Aidan Manion. Doherty is a Visual Media Arts major at Emerson, Nevulis is a Finance major at Suffolk University and Manion is an Economics/Finance major at Bentley University.
The three went to high school together in Plymouth, MA before going their separate ways for college. With a common interest in sustainability and fashion design, they had the idea during the summer of 2021 to launch their own clothing brand to promote living in the moment and taking care of the planet.
"It started with these casual conversations over the summer when we were all in Plymouth together, and we were like, 'Oh, that would be super cool if we could do something like that,'" Doherty said.
Emerson and Suffolk being close to each other, Doherty and Nevulis met in person one weekend in the fall, while Manion was on the phone. They decided to go ahead with the project at the start of the first semester of their second year.
They found that going to three different schools helped The Local Brand get more attention instead of hindering the business.
"Instead of all being in the same school with the same people, we now have three different branches of people," Doherty said. "There are more people we can talk to about our brand. From a marketing point of view, I think it was very useful for us.
The name was inspired by the idea of ​​being more and more connected with the community and with oneself.
"We were trying to figure out what can make us more involved in the community and positively impact others," Nevulis said. "We sat down and thought about this idea of ​​the local brand, the name [meaning] you could impact a local community, and as local as yourself and what it means to love being present in the moment.
Doherty creates all original designs using Adobe Illustrator. He then sends a sample design to the rest of the team. They try to make it as collaborative a process as possible, asking their friends for input.
"We try something, then we modify it, then we go back and re-edit it, and eventually we come up with something that works," Doherty said.
Each clothing depot has a theme, which usually offers guidance on designs. The most recent decline on March 18 was concentrated in sustainabilitywith a design that said "Love Your World" and positive Mental Health, with a design that reads "Live in the moment". They plan to drop monthly.
An important part of The Local Brand's mission is to "promote a happy and healthy planet". With each order, they will plant a tree. They too make a donation a portion of their profits to four organizations: A planted tree, The Ocean Foundation, Climate Reality Projectand Amazon Conservation Team. They have used Charity Navigator to determine the types of organizations they wanted to support.
The local brand had a appear during an Afterlife Presents LLC concert at the Middle East Restaurant and Nightclub on November 20, 2021, which helped with the promotion.
"People were coming up to us and saying they liked our message and had been following our brand for a little while now, and it was pretty cool to see because it was outside of our usual areas," said Manon. "Many people [at Bentley] know about [the brand] and always give me positive reviews and feedback, but going to an unfamiliar area and getting feedback there was pretty cool.
The founders hope their brand will reach as many people as possible. They plan to network with local charities and other communities in the Greater Boston area.
"Right now, we're really focused on this strong community in Boston, that we're doing a great job at our three schools," Nevulis said. "It's just taking the next step and loving the people we don't know in the city. But yeah, so far that's really the direction we're going.
For more information, visit the local brand site website and instagram.