Triathlon designed for kids returns to Pack Square Park in August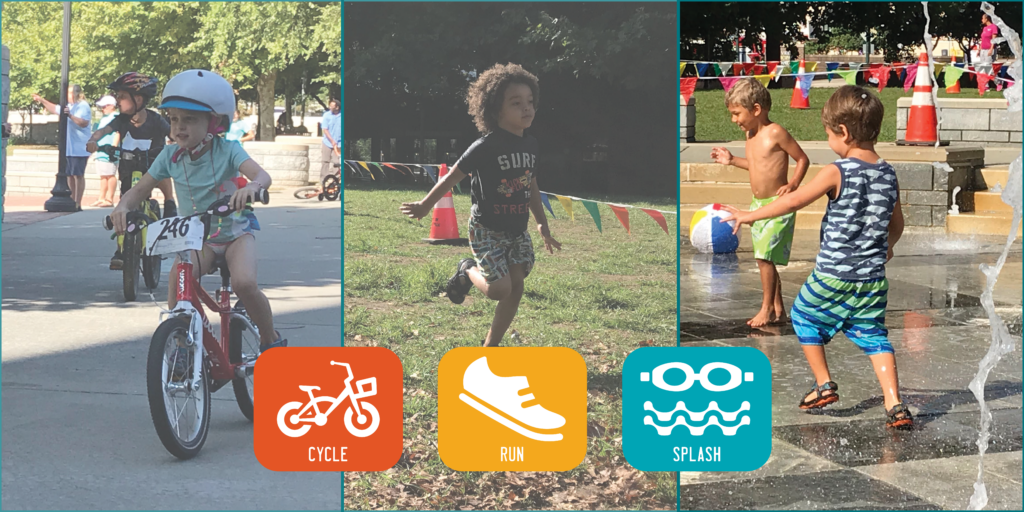 Toddlers ages 3-6 are invited to ride, sprint and splash during Asheville Parks & Recreation's annual Tiny Tykes Triathlon at Pack Square Park (80 Court Plaza) on Sunday, August 7. Pre-registration is mandatory and costs $10 for Asheville residents or $12 for those residing outside the city limits. Parents, grandparents, siblings and friends are encouraged to cheer on triathletes from the sidelines.
"The Tiny Tykes Triathlon results in pure joy for kids and a bit of organized chaos for adults, but it's great fun for everyone," according to Christine Elyseev, Parks and Recreation Outdoor Programs Coordinator. of Asheville. "This event and other programs can inspire a lifetime of active living and appreciation of the outdoors. In addition to after-school programs, youth sports and summer camps, recreational activities are essential to childhood development and foster imagination, healthy habits, social equity and mountain spirit.
Race heats begin at 9:15 a.m. and run every 15 minutes with limited availability for each session. Participants choose a start time during pre-registration. The course consists of a bike race, a sprint and a final splash at Splasheville, the popular wading pool in downtown Asheville. Triathletes must bring their own bike and helmet, wear clothes that can get wet, and have properly fastened shoes (no flip flops). A limited number of bicycles are available for use with advance notice. Big wheels, scooters, skateboards, skates or motorized bicycles are not allowed.
For all the details, visit avlrec.com. Advance registration is required and walk-in registration will not be available.
Asheville Parks and Recreation
Established in 1956, the Asheville Parks and Recreation Department manages a unique collection of more than 65 public parks, playgrounds and open spaces throughout the city in a system that also includes comprehensive recreation centers, swimming pools, the Riverside Cemetery, sports fields and courts, and community centers that provide a variety of wellness, educational, and cultural programs for Ashevillians of all ages. With 8 miles of paved greenways and numerous natural surface trails, its comprehensive portfolio acts as the foundation of a vibrant center allowing Asheville residents to connect with their neighbors and explore a city's natural beauty. habitable and pedestrian.
Driven by the promise that Asheville is a better, safer place where everyone, from infants to retirees, has the opportunity to be supported, healthy and prosperous, Asheville Parks & Recreation was the first municipal recreation service nationally accredited in the United States. For the latest updates, follow the department on Facebook @aprca and Instagram @ashevilleparksandrecreation or visit www.ashevillenc.gov/parks.